June 15, 2015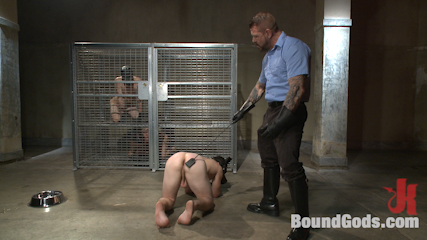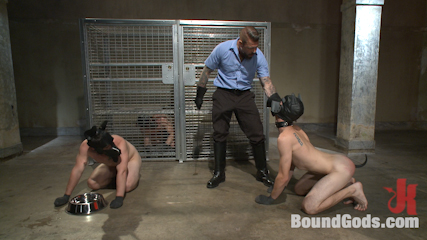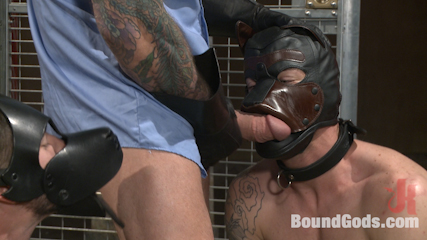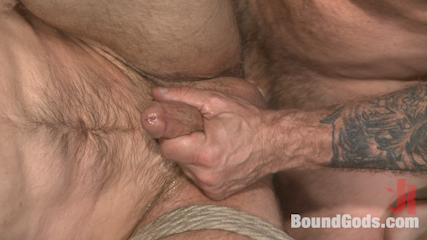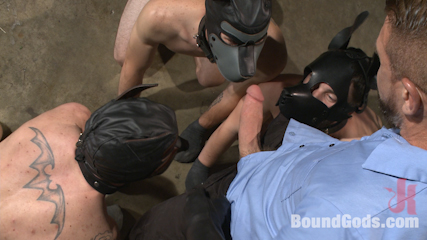 Dog Catcher Rocco Steele wants to find a new puppy to play with, so he heads deep into his pound. He runs three promising pups through some tricks and disciplining as they take a cropping and are made to worship Rocco's massive cock. Tryp Bates rises above the pack with his obedience, so Rocco selects him for more intense training. The other pups watch on jealously as Tryp is bound to a platform and flogged without mercy. Rocco has so much fun with his new pup that he suspends Tryp above the platform and rams his massive cock into Tryp's eager hole. The fucking continues upstairs in Rocco's office, Tryp biting into his gag from the pain of his clover clamps tenderizing his nipples, all while taking every inch of his master's thick cock. After feeding the pup his own cum, Rocco rewards his new pet with a mouthful of cum.

May 18, 2015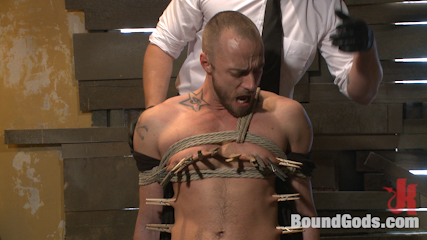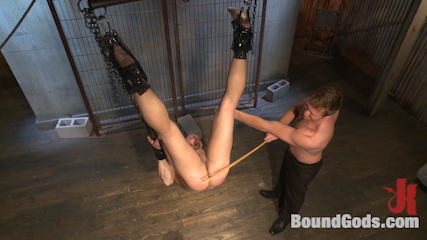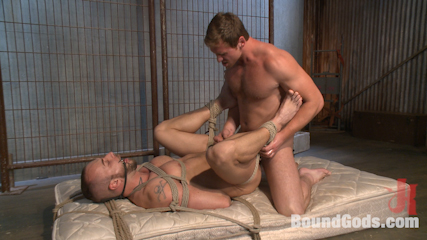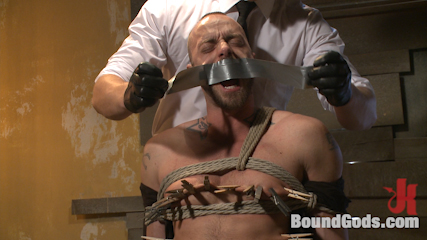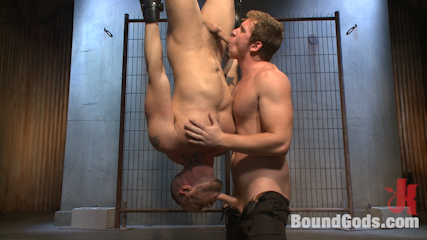 His latest plot foiled, painslut terrorist Jessie Colter has finally been captured by Agent Connor Maguire. Authorized to take any means necessary to extract information from Jessie, Agent Maguire slips on his leather gloves and gets to work. Jessie has his bulging pecs and torso covered in clothespins and cropped. Still unwilling to rat out his comrades, Jessie is made to gag on Connor's dick while taking a vicious paddling. Agent Maguire hoists Jessie into an inverted suspension, leaving Jessie vulnerable to a battery of ball torment, caning and flogging. Next, Agent Maguire takes Jessie to the floor and gives him a rough fucking and hot wax. Connor's hard dick finally persuades the terrorist to squeal, but the confession doesn't grant Jessie any mercy. Connor milks the cum from Jessie's cock and smears it all over his captive's face. Jessie then receives a hot load from Connor, as Connor promises even more torment in the days to come.

March 15, 2015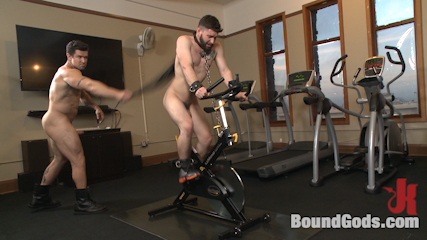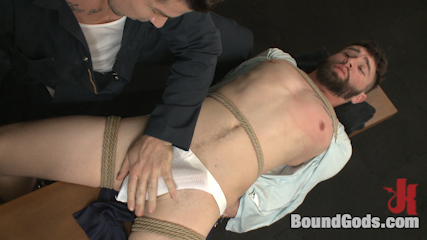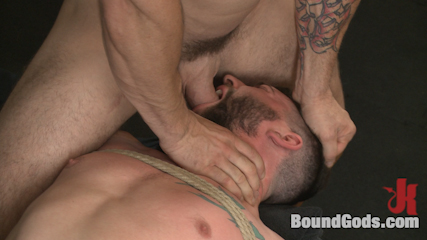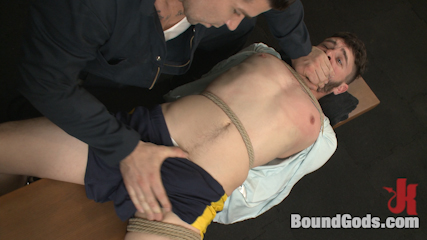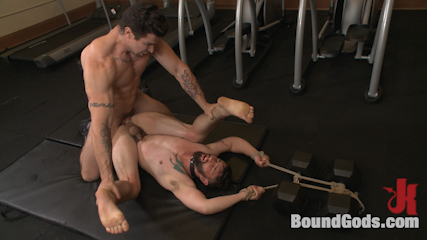 Jackson Filmore is changing into his workout clothes without realizing that the Creepy Handyman, Trenton Ducati is looking on. Jackson catches a whiff of his sneakers and gets aroused, doing his work out routine with a hard-on. Trenton can't help himself and ties Jackson up to a bench. He sucks the boy's toes, punches his chest, and makes Jackson suck his cock. On an exercise bike with a dildo attached, Jackson is made to fuck his own ass while receiving a hard flogging. With Jackson's hole primed for fucking, Trenton ties him to a treadmill and fucks him hard. With the workout over, Trenton gives Jackson a stretch fuck at the end of the session and covers his face in cum.

March 2, 2015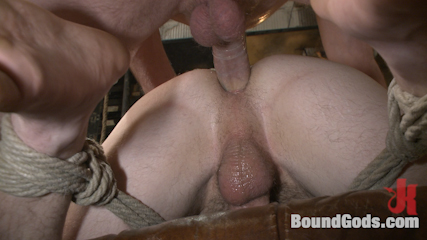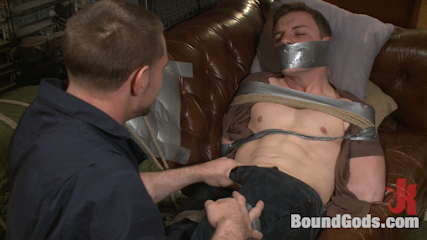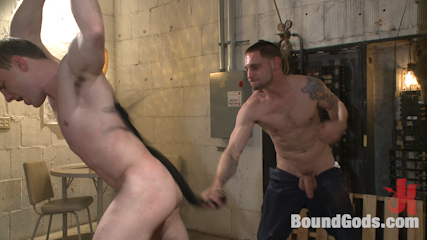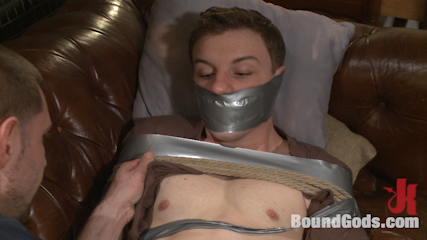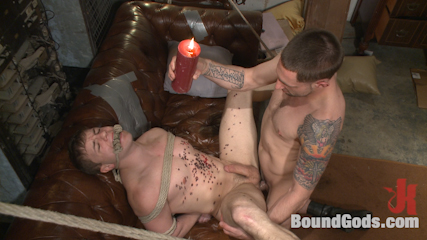 Hung stud Doug Acre is minding his own business taking a piss at the urinal when handyman Jay Rising pounces from behind and wrestles Doug to the ground. Bound with his mouth duct taped shut, Doug awakens back at the creepy handyman's place as he's tormented with the crop and made to swallow Jay's 10 inch cock. Doug's arms are strung up above his head as he's brought to his feet, Jay stroking his big cock with one hand and a flogger in the other. The creepy handyman beats his boy down before throwing him down on the couch for a turn at his ass. Doug helplessly screams as he feels all 10 inches slide inside him as Jay pours hot wax all over the boy's torso. After a rough pounding Jay sprays his load all over Doug's face and has him suck off every drop.