July 26, 2015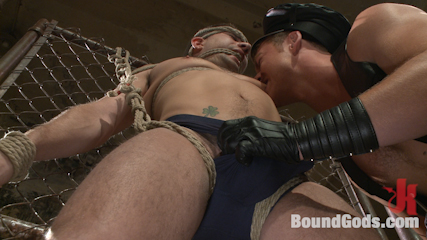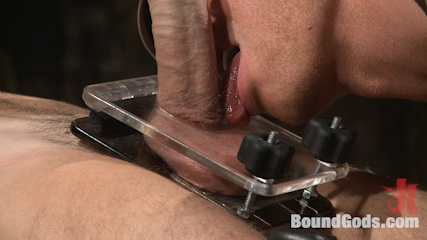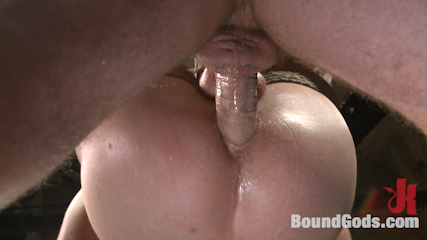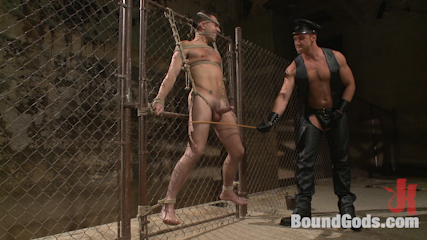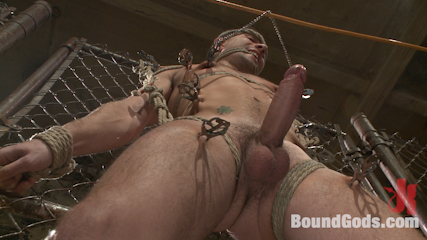 The sweet, earthy smoke of a fine cigar exits Connor Maguire's ripped body and fills the narrow corridor leading down to the basement. There, Slave #002 awaits his master, slung in ropes from a rusted chainlink fence. Connor blows smoke in the slave's face before groping the slave's eager cock. #002 receives an ample caning from Connor, thanking his master through the sharp blows from the cane. The painslut slave's dick bulges as his body is covered in clover clamps and more swift caning. Connor takes the slave from the fence and secures him on the rack. With his back contorted into a severe arch, the slave worships cock and has his balls crushed. The slave begs for mercy as Connor flogs his open chest, but Connor refuses. Instead of mercy, there is only pain and pleasure, and the slave is made to chant that mantra as the flogging intensifies. Connor suspends #002 from the ceiling and pounds his massive cock deep into the slave. He jerks a load from his slave before having him eat it off his leather glove. The slave is brought to his knees and hungrily takes his master's cum. Satisfied, Connor walks off, commanding #002 to wait at attention for the next dom.

May 18, 2015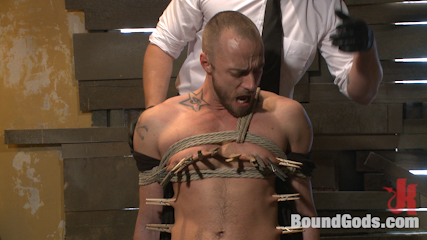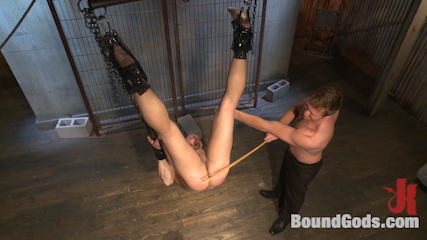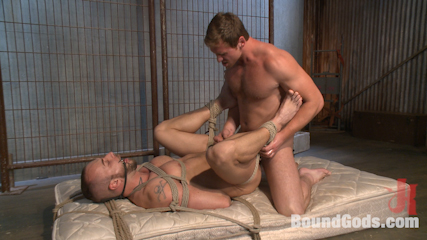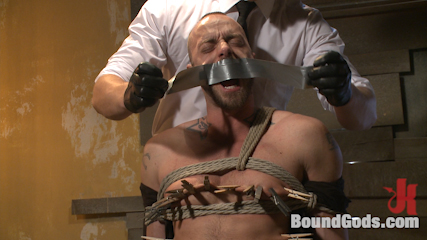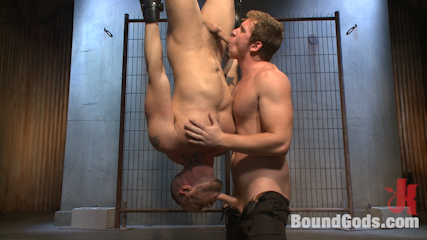 His latest plot foiled, painslut terrorist Jessie Colter has finally been captured by Agent Connor Maguire. Authorized to take any means necessary to extract information from Jessie, Agent Maguire slips on his leather gloves and gets to work. Jessie has his bulging pecs and torso covered in clothespins and cropped. Still unwilling to rat out his comrades, Jessie is made to gag on Connor's dick while taking a vicious paddling. Agent Maguire hoists Jessie into an inverted suspension, leaving Jessie vulnerable to a battery of ball torment, caning and flogging. Next, Agent Maguire takes Jessie to the floor and gives him a rough fucking and hot wax. Connor's hard dick finally persuades the terrorist to squeal, but the confession doesn't grant Jessie any mercy. Connor milks the cum from Jessie's cock and smears it all over his captive's face. Jessie then receives a hot load from Connor, as Connor promises even more torment in the days to come.

March 2, 2015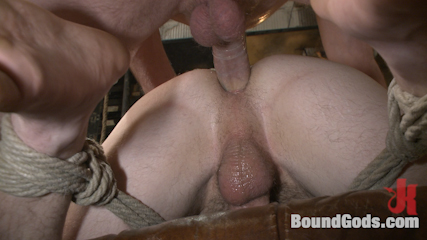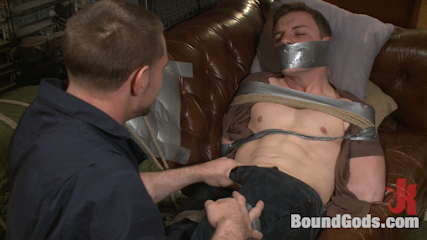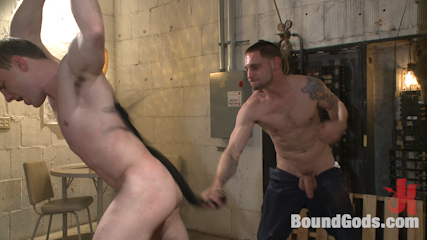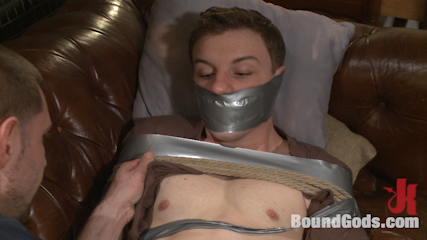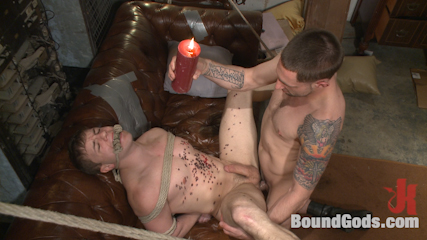 Hung stud Doug Acre is minding his own business taking a piss at the urinal when handyman Jay Rising pounces from behind and wrestles Doug to the ground. Bound with his mouth duct taped shut, Doug awakens back at the creepy handyman's place as he's tormented with the crop and made to swallow Jay's 10 inch cock. Doug's arms are strung up above his head as he's brought to his feet, Jay stroking his big cock with one hand and a flogger in the other. The creepy handyman beats his boy down before throwing him down on the couch for a turn at his ass. Doug helplessly screams as he feels all 10 inches slide inside him as Jay pours hot wax all over the boy's torso. After a rough pounding Jay sprays his load all over Doug's face and has him suck off every drop.

December 8, 2014

It's Folsom Street Fair 2014 and with the crowd roaring, Jacob Durham crawls on stage in a puppy mask. With thousands of people looking on he's abused and humiliated by Trenton Ducati, enduring hot wax while he gets clips on his nipples and balls. With a puppy tail butt plug up his ass he's pissed on by five hot studs while barking. We take the piss covered pig off the street to whore him out at a Folsom sex party where he's made to suck strangers off and get his ass fucked. Begging for cum, Jacob's face is covered by cock after cock and jerks his own load with a face full of ass.